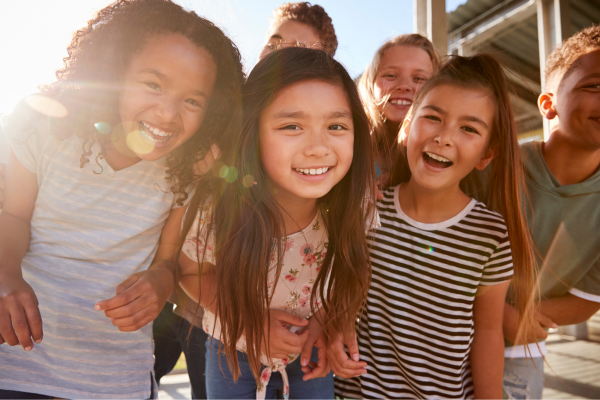 For many kids, the start of a school year can be both exciting and nerve-wracking! Especially when it comes to making new friends. The desire to form connections, share experiences, and find like-minded pals is a universal part of childhood. Yet, for many, the idea of meeting new people, navigating social dynamics, and stepping outside their comfort zones can be a source of total anxiety. We get it! This is where Drama Kids can help! When you enroll your child in a Drama Kids class, you're not just giving them the gift of confidence and a chance to shine in the spotlight … you're also giving them the opportunity to form lasting friendships!
Drama Kids is a judgment-free space. Drama games and activities encourage students to step out of their comfort zones, creating an environment where they can connect with their peers in a fun and non-intimidating way. We LOVE being silly and letting loose, and we play so many fun games that promote collaboration and teamwork, setting the stage for new friendships!
Many of our "main lesson" activities involve partnered skits and group scenes. When working closely with their peers on scenes, students naturally bond with one another. These shared experiences create a sense of camaraderie that extends beyond our classroom! They learn to rely on one another, support each other's growth, and bring out the best in each other. We always encourage our Drama Kids to form new friendships by partnering with different students each week, which not only leads to new bonds but also a stronger class ensemble!
Speaking of ensemble, our end-of-the-year presentation is where many friendships are truly forged! When they spend each class rehearsing, supporting one another, and working towards a common goal, they are creating true, lasting bonds with their classmates. Especially in Drama Kids, where each of our students shares the spotlight equally! But of course, Drama Kids isn't just about performing on stage at the end of the year; it's also about developing strong communication skills and confidence. As students learn to express themselves confidently, they become better at initiating conversations and forming connections with others!
So, here's to a new school year full of drama, laughter, and friendship! Make a new friend and find a Drama Kids near you today! Find a Drama Kids near you today